Dwell Development is Reinventing Housing, and Using AeroBarrier to Achieve 0.22 ACH50
Seattle is famous for homegrown companies that reinvent and disrupt industries, such as Starbucks and Amazon. Now, Dwell Development is reinventing housing and using AeroBarrier in the process.
Seattle's Jackson Place is the location of Dwell Development's latest single-family sustainable new build.  The lot is the site of a home built in 1929, and the location is within walking distance of downtown, the Seattle streetcar, Beacon Hill, and Amazon headquarters; its Walk Score is 88. Dwell names the project, King Street.
A trend for the neighborhood, developers scrape a lot and build five or six townhomes. Anthony Maschmedt, Principal of Dwell Development says, "Rather than be like everyone else and scrape the entire lot, we chose to preserve the existing home and build a single-family home where the garage was located." Scraping the entire lot and building multiple units may lead to greater profits, says Maschmedt, "from an economic standpoint other builders are going to say we are leaving money on the table, and we probably are. But we look at the big picture. We look at the neighborhood and its people. We are looking at it from a community standpoint and the right thing to do."  
Maschmedt's decisions are not defined by profit, rather, they are values-driven. The result of these values, Dwell has become profitable, successful, and one of the most awarded builders in America for innovation and sustainability.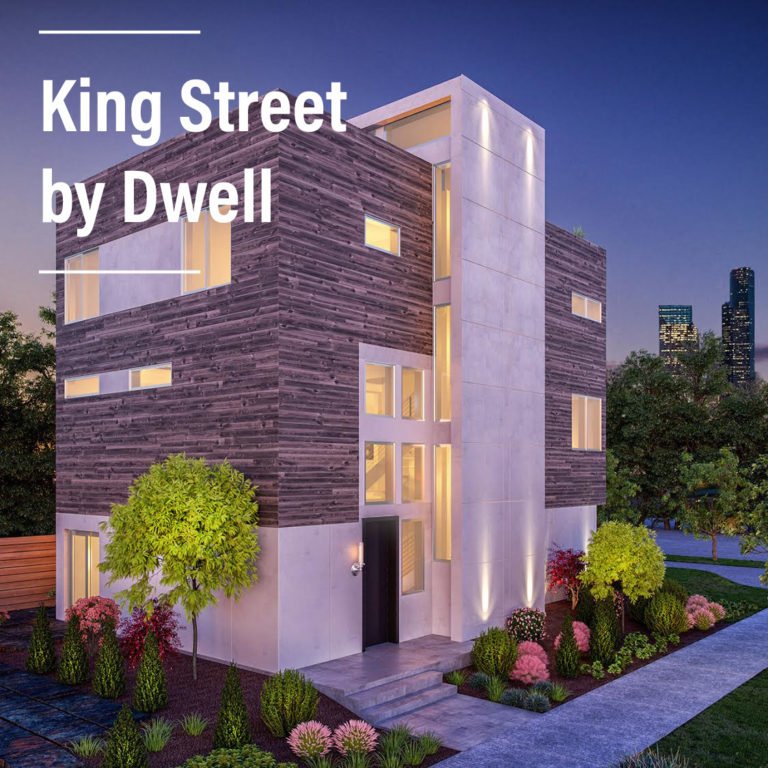 While other builders in Jackson Place tear down existing homes and replace them with multiple units, Maschmedt is doing the opposite.   This sort of contrarianism is a common theme for Dwell.  The Dwell motto is, 'always lead, always challenge, always stride to do more.' For the past ten years, this is exactly what Maschmedt and his team have done.  
Recognized as a market leader, Dwell is the recipient of nearly every homebuilder award for innovation and sustainability, including four-time U.S. Department of Energy Innovation Award, International Living Building Challenge Award, Sustainable Seattle, and NAHB Best in Green.
"Always lead, always challenge, and always strive to do more." Anthony Maschmedt, Dwell Development
The Decade of Dwell Development
Since 2008, Dwell built over 200 homes. Since the beginning, Maschmedt's business model could be labeled that of a contrarian; "If everyone is selling vanilla ice cream, we are going to sell chocolate, we will stay true to our motto and differentiate," says Maschmedt. 
While the housing market was crashing during the subprime era, some builders were forced out of business. Those who weathered the storm chose to cut budgets and make operations as lean as possible, this included doing the bare minimum in regard to construction strategies and code requirements; a single nail became a budget item. 
"Hard times lead to innovation." Anthony Maschmedt, Dwell Development
While some were building to the bare minimum, Maschmedt chose the downturn to invest extra in innovation and sustainable development, he says, "It was the perfect time to look for ways to differentiate our product and make an innovative home available to the Seattle homebuyer." Immediately, recognition followed. For each year between 2008 – 2012, Dwell was the recipient of the Built Green Hammer Awards.
In 2008, and determined to build the most high-performance home, Maschmedt was led to Tadashi Shiga from Evergreen Certified.
The Energy Performance Pro
On a mission to make Dwell the most innovative and sustainable home builder, Maschmedt contacted Tadashi Shiga from Evergreen Certified.  During the real estate crisis of 2008, Shiga left his brokerage to launch a leading home performance firm in the Northwest, providing services that include energy rating, third-party verification, and energy modeling. Shiga and Maschmedt shared a passion for sustainable development, both choosing the niche at a time when it was not popular.
During this early period, Maschmedt challenged Shiga to research innovative technologies and energy efficient design strategies, helping to create what we today know as Dwell Development, homes that are reclaimed modern and emphasize innovation and thoughtful design. 
Evergreen Certified: More than an Energy Rater
Shiga's Evergreen Certified, third-party verifies the most houses in the Northwest for Built Green, Passive House, ENERGY STAR, and RESNET. Shiga has surfaced as a key influencer in the residential energy efficiency market. With a background in brokerage and market trends, he redefines the role of the energy rater/verifier by recommending improvements that make financial sense and those the homebuyer will embrace.
A Seattle native, Shiga says Dwell has changed the tapestry of the city, stating,
"Before Dwell, everyone built Craftsman-style homes. There was no reclaimed modern. When Anthony unveiled the Dwell-design, people were pleasantly stunned and embraced it." Tadashi Shiga, Evergreen Certified
Not only has Dwell redefined residential architecture for Seattle, but they are also redefining what sustainability means for homebuilding.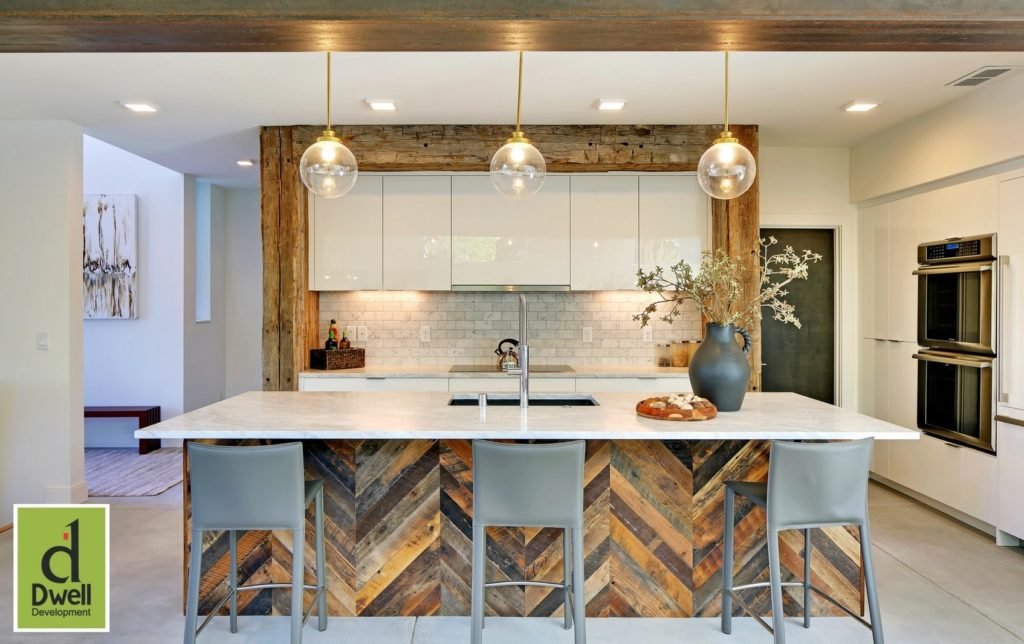 Dwell: community → Values → Mission → Sustainability
When speaking about Dwell's success, Maschmedt emphasizes the importance of being driven by values.  He says leaving a legacy and doing the right thing for the neighborhood is the right way to build. In an era of gentrification, when Dwell has the option to preserve an existing home (even if it means leaving money on the table possibly) Maschmedt says he will do what feels right. This was the case for King Street. By preserving the existing home, the Jackson Place neighbors embrace Dwell as a developer preserving a part of their community, and not one that tears down a beautifully preserved home form 1929.
Shiga says Dwell's version of sustainability is what he calls sustainable design – by beauty. Meaning, with a beautiful design, built with durable materials, there is less likelihood it gets torn down and replaced decades later.  
Maschmedt says Dwell constantly strives to consider ways to reuse and preserve materials and structures. The siding on King Street comes from reclaimed wood from old barns in the Willamette Valley.
Finally, as a means to demonstrate a commitment to lessening environmental impact, all Dwell homes are certified Seattle Built Green, ZERH, and ENERGY STAR.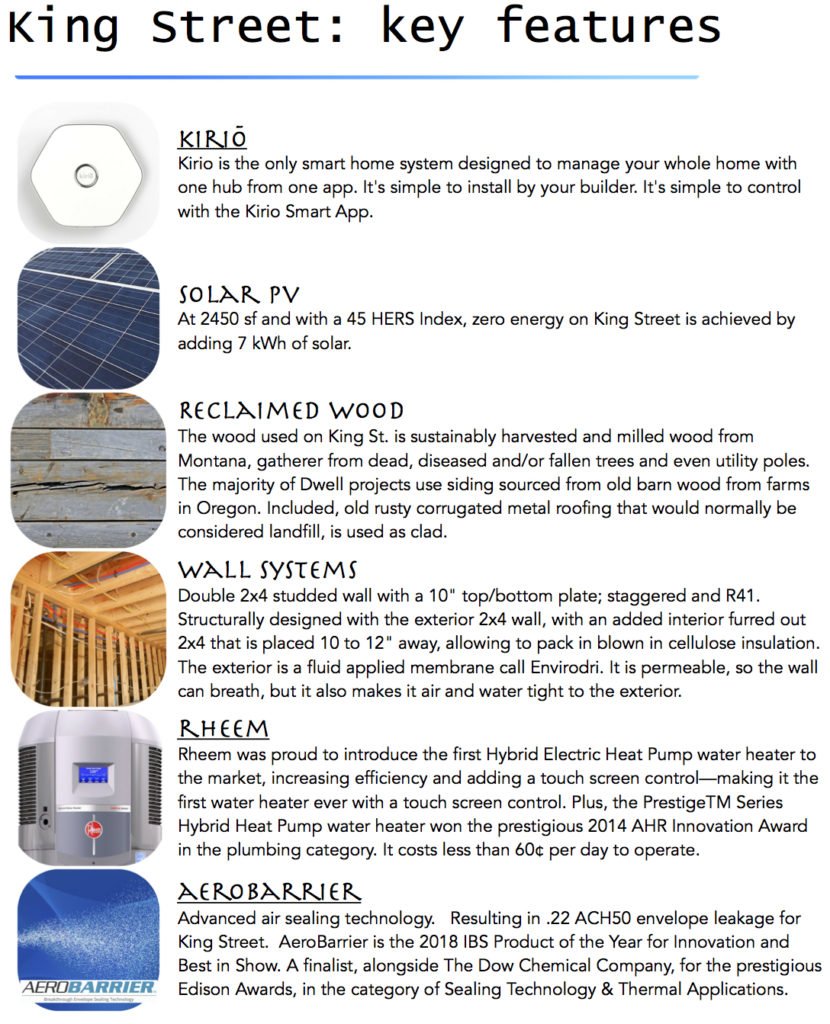 Certifications, Ratings, and Performance
King Street is targeted to achieve a 45 HERS Index pre-solar (30% better than code). Shiga says the superior energy efficiency is accomplished with innovative wall systems, thermal barrier strategies, hybrid water heating, .28 U-value windows, and advanced envelope sealing technology.  The advanced sealing technology is accomplished by using AeroBarrier, making a 0.22 ACH50 easy and affordable, with no disruption to the construction schedule.  AeroBarrier is the award recipient for IBS Best in Show and most innovative product.
With the addition of a 7kWh solar array, King Street will achieve zero energy.
King Street achieves the following ratings and certifications:
Built Green is similar to LEED for Homes. The certification is based on a checklist and impact areas that include green codes, site and water, energy efficiency, indoor air quality, and material selection. King Street is certified to Built Green 5-star for superior performance in all impact areas. 
ZERH is the U.S. Department of Energy's (DOE) Zero Energy Ready Home.  The DOE Zero Energy Ready Home is a compelling way to recognize builders for their leadership in increasing energy efficiency, improving indoor air quality, and making homes zero energy ready.
ENERGY STAR certified homes are designed and built so that all energy efficiency systems and features work together to deliver better performance. Key impact areas include HVAC, thermal enclosure, lighting, and moisture controls.
Dwell constantly strives to explore strategies and products that are innovative. In May, they launch a multi-family product that emphasized small spaces, wifi, no parking, and lessening the occupants' carbon footprint. King Street features new products that symbolize Dwell's commitment to innovation and energy efficiency, including AeroBarrier.
Many in the industry say Dwell has mastered energy efficiency, acknowledging Dwell homes outpace the most stringent ratings and certifications. So, what is next for Dwell? What part of housing will Maschmedt disrupt next?
Maschmedt gets excited when presenting his vision for Dwell's next chapter, or homes that feature high standards of performance and health, and are also affordable. He says, "We have some things in the works that if they can come to fruition, will dramatically change the residential fabric of this great City. My wife Abbey is leading this charge, and we hope her continued passion pays off."
The Dwell Development brand is recognized locally and nationally. Maschmedt says now is the time to leverage the Dwell brand and use it as a catalyst to educate and inspire other builders to reinvent markets. He says, "I am here to help all builders who want to consider this type of development, the Dwell model is transparent and intended to guide others. Call me anytime, I am here to help."
When asked about the future for Dwell Development and Evergreen Certified, Shiga and Maschmedt grin and warm-heartedly say, "Watch for our upcoming TV show on YouTube and our speaking engagements coming to cities around the country."
With more than thirteen years experience building homes in the greater Seattle area, Anthony Maschmedt is an advocate for sustainable design and green construction. He continues to push the envelope in the sustainable community with innovative construction methods that have positively influenced city building practices. As a lifelong Seattleite, Anthony has a deep commitment to creating communities that bring together like-minded individuals who value sustainability and modern design. Anthony has served as the Chair on the Board of the Master Builder's Association of King and Snohomish Counties' Built Green Residential Building Program for the last three years. He is a key member of the Columbia City Business Association and is sought after in the Seattle sustainable community to promote and share Dwell Development.
About Evergreen Certified
Tadashi Shiga is the owner and creator of Evergreen Certified LLC. Growing up with deep roots in the Seattle real estate and development community, Tadashi has now been a real estate broker in the area for over 20 years. In 2007, he dove into learning about sustainability and energy efficiency for homes, shifting his focus and gaining a new passion. Tadashi then worked to become an Energy Star verifier and HERS Rater, and slowly began building a client base of developers and builders in the Seattle area looking to build green. Today Evergreen Certified has a client base of 150 builders and provides verifier and rater services for numerous programs including Built Green, PHIUS+, HERS, WaterSense, DOE Zero Energy Homes, NetZero and Energy Star. Tadashi was the first PHIUS rater in Washington, and was involved with the first DOE Builder's Challenge home in the state in 2010. Evergreen Certified won the Built Green Hammer Award in 2013, and has been the green verifier for the 2013 & 2015 DOE Housing Innovation Award Dwell Development projects. Tadashi has also been hard at work turning his own home on Vashon Island into a Net-Zero property. Tadashi leads a passionate team of green building professionals who help Seattle be a greener place.
Seal your project in less than a day